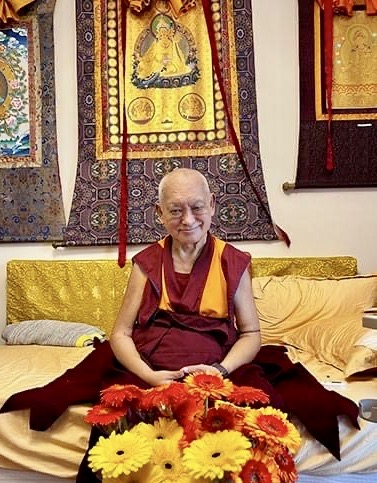 USA
---
Opportunity to Offer Service
Spiritual Program Coordinator Opportunity
Vajrapani Institute, Boulder Creek, CA
The Spiritual Program Coordinator (SPC) works together with our Director to provide co-leadership in fostering a sacred, contemplative culture, helping to meet the spiritual needs of the community. The SPC's main duties are to create, plan, market and organize the spiritual activities of the center, including programs, public and private events, practices, and classes while supporting the vision, mission and intentions of Vajrapani Institute and the FPMT organization.  If you would like to consider joining our team, please read more about the position and how to apply.
Director Needed, and Operations Manager Opportunity
Milarepa Center, Vermont
We are a retreat center operating in a rural setting within the Northeast Kingdom of Vermont. We operate sustainably as a hybrid retreat center offering both public retreats/programs as well as private, solitary retreat cabin rentals. The board is looking for a qualified Full-Time Residential Center Director. Alternatively we would welcome applicants for the position of  Full-Time Residential Center Operations Manager. Compensation includes housing on the property and a small monthly stipend. We invite you to read more about both positions, and how to apply.
Director Opportunity
Land of Medicine Buddha, Soquel, CA
Working at Land of Medicine Buddha, you will have ample opportunities to bring your deep love of the Dharma into practice in this 108-acre retreat facility in an exquisitely beautiful redwood setting near the California coast. If you are looking for more meaning in your life, please consider this rare opportunity to serve as Director. This is a unique environment for inner and outer growth. Your participation will contribute to the vast potential of Land of Medicine Buddha to be a beacon jewel for the planet. The board is seeking someone with keen business and financial acumen, management, communication and interpersonal skills. This position can bring immeasurable value to your own life, as well as to the lives of everyone involved with Land of Medicine Buddha, our surrounding community and the world as a whole. You will be part of a dedicated Sangha and lay community, working to stabilize and create a new vision for our beloved Land of Medicine Buddha to become a flourishing Dharma presence of universal education and more.  Please read our job specification for more information, and how to apply.
Director Needed
Thubten Norbu Ling, Santa Fe, NM

We are a teaching and meditation center located in Santa Fe, New Mexico, USA. We provide a friendly and supportive environment for learning and putting into practice the teachings of the Buddha.  The Board is seeking to recruit an Executive Director. With the support of the Board, the Executive Director is responsible for a wide variety of responsibilities. This role is multi-faceted and requires an experienced and visionary leader. If you are people-orientated, a good communicator, have strong emotional intelligence and can be agile in balancing multiple priorities, this could be a wonderful opportunity to make an important contribution. The Executive Director also works in collaboration with the Center Manager to direct staff, volunteers, and consultants to ensure the center realizes its mission.  We invite you to read more about this position, and how to apply.
Check out world wide opportunities in the FPMT here!