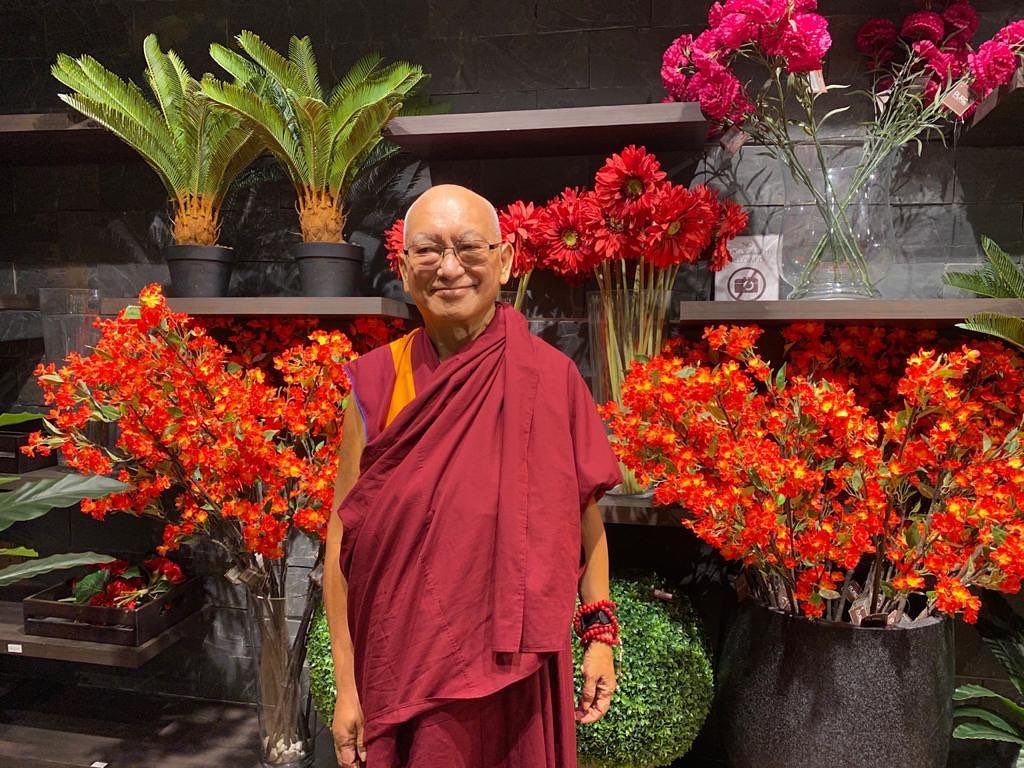 Check out our on-line calendar! Check the time carefully as there are three different time zones.
Our Spiritual Director, Lama Zopa Rinpoche, is giving a series of teachings at Kopan Monastery that directly address the situation in the world today.
Here are ongoing weekly teachings but good to check the website for any last minute changes. Special teachings will be listed on the on-line calendar.
Group Prayer Sessions – Monday to Friday at noon
Sunday program with Geshe Sonam – 10:00am – 11:00pm
Tuesday Discussion Group – Discovering Buddhism
7:00pm – 9:00pm – Facilitated by David Gould
Building Inner Strength – 16 Guidelines Online Course
Thursdays – 7:00pm – 8:30pm – Facilitated by Arunas Antanaitis
Gyalwa Gyatso (Ocean of Compassion) Buddhist Center
DB with Ven. Gyalten Palmo
Tuesdays – 7pm – 9pm
The Foundation of Buddhist Practice w/ Don Isaacson
Thusdays 7:00pm – 8:30pm
Sundays 6:00pm – 7:15pm
Land of Medicine Buddha – check out their Calendar for many events!
Tuesdays 4:00pm – 4:30pm – Guided Meditation
Sundays – 10:30am – 12:00pm – Taste of Buddhism
Tuesdays  – 8pm – 9:15pm – Online group book study with Justin Jenkins
Ven Robina – Fireside chat
Thursdays – 2:00-3:30PM ET
Bodhisattva's Way of Life ~ Tuesdays 7p – 8:30p
Meditation Hour ~ Sunday 10a – 11a
Coping with Change in Difficult Times ~ Sunday 11a – 12p
Venerable Amy ~ Practical Compassion Series Saturdays  10a – 11:30a
Virtual Book Club  Mondays @ 7p – 8:15p
Meditation with Sean Gonzales – Mondays – 7-9pm
Yoga with Wendy or Sarah – Tuesdays 7:30 – 8:45 pm
Necklace of Learned Explanations: Presentation of Grounds and Paths with Geshe Tenley
Wednesdays – 7-9pm
Lamrim Teaching – The Great Scope with Geshe Tenley
Sundays – 10:00 AM – 12:00 PM
Guided Meditation, Tuesdays 7-8pm
Ven Robina
Friday, May 8th 6:00 PM – 8:00 PM
Saturday , May 9th 10:00 AM – 5:00 PM
Thubten Norbu Ling Tibetan Buddhist Center
Visit their calendar here!
Ksitigarbha Tibetan Buddhist Center
Lama Zopa Rinpoche's Advice for Covid-19 Practices with Ven Amy     
Wednesdays: 10–10:45am
Saturdays: 1–1:45 pm
Mondays – 7:00 pm to 8:30 pm – Online-only Discovering Buddhism: How to Develop Bodhichitta
Wednesdays – 7:00 pm to 8:00 pm – Online-only Practices to Develop Lamrim in Our Minds
Sundays – 11:30 am to 12:00 pm – Kadampa Kids Virtual Class
Medicine Buddha Puja on Tuesdays from 7:30-8:30 P.M.
Building Inner Strength Course – Led by Ven. Tenzin Denison
Thursdays at 5:30-7:30 pm